From simply keeping another copy of your data, Backup has converged with Information Security in order to address persistent Attacks, Threats and Risk on Enterprise Data.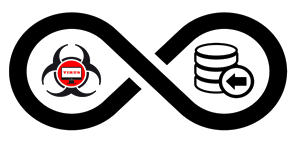 Recent developments to Ransomware has led it to attack not just the Production Environment but also Backup Files exposing users to constant Attack Loop – a method where Ransomware infiltrates your backup data, stays dormant until file is recovered and repeats the attack all over again.
With the market evolving and attacks becoming smarter, it is important for companies to take precautionary measures. ASIGRA gives users the leverage to prevent the Attack Loop:
Bi – Directional Malware Detection – real–time scan in the backup stream and restoration stream to isolate malicious codes
Zero-day Exploit Protection – signature – less technology does not rely on database of known malware to identify unauthorized code
Variable Repository Naming – "Moving Target" prevents malware from identifying and deleting backups
Two – Factor Authentication – requires a second authentication to access and delete backup data from repositories
STAY AHEAD OF THE BACKUP GAME
Contact Sandz Solutions Philippines +632 8885757 or send us an email at philippines@sandz.com for more details.
More from our Technology Partner here: https://www.asigra.com/ransomware-protection